On April 18th the Biolightannounced that the products Hollow Fiber Dialyzer and Dialysis Fluid Filter obtained the CE certificate from the international certification authority TüV. It manifests the products have met the European Union relevant instruction requirements and can be sold on the overseas market, which expensed the company overseas sales products category.
The announcement shows the products are the blood purification high-quality consumable products that the company has devoted in recent years. The CE certification is the result of the company research and development innovation strategy, indicating that the company has a high level of scientific research in the field of blood purification. Moreover, the acquisition of the dialysate filter (endotoxin filter) CE certificate will make the company become the first company who obtain the CE certificate for this product in the domestic blood purification field A-share listed.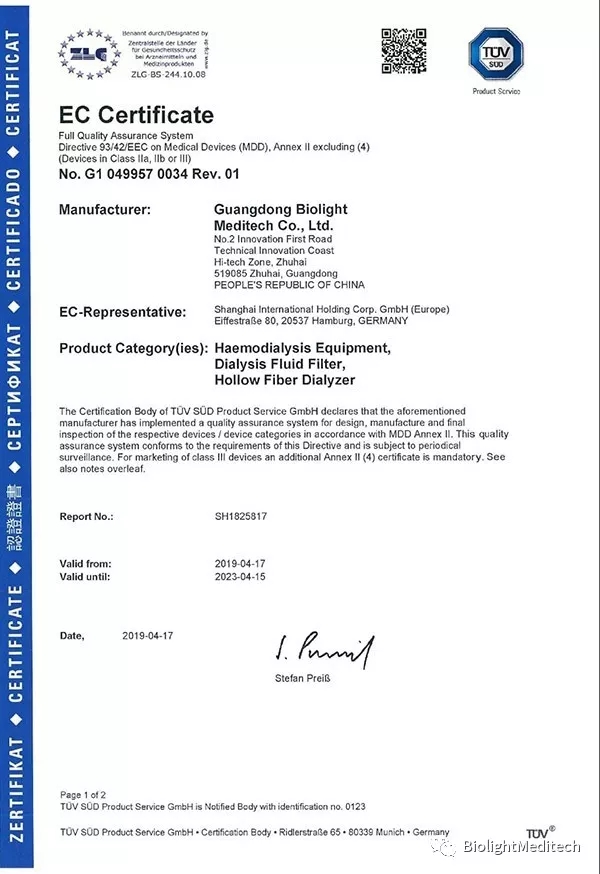 According to the company, Hollow fiber dialyzers and Dialysate filters (endotoxic filters) have achieved CE certification, in line with the company R&D innovation strategy and internationalization strategy. It is also the key step in the company blood purification field in the international market which covers more than 100 countries and regions in North America, Latin America, Asia, the Middle East, Europe, and Africa. Using the company existing international market channels will help to expand the company share of blood purification products in the market. It is conducive to improving the company market competitiveness and has a positive impact on future development.